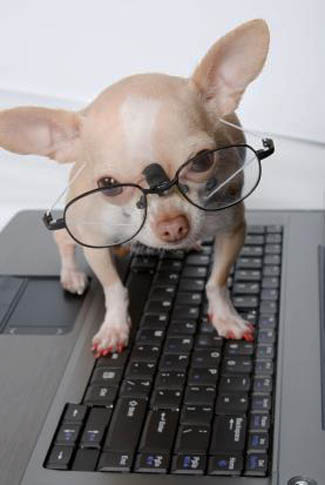 If you would like to know more about Star's Chihuahua's or would like to adopt one of our puppies contact us at

STARSCHIHUAHUAS@gmail.com

We also can add you to our waiting list for one of our up coming litters. Email me and let me know what colour size and sex you are wanting. We welcome you to visit our home and our Chi family, contact us to set a date and time to visit...

At last I have made myself sit and take some time to write my newsletter. The summer has passed in what feels like the blink of an eye and before we know it the trees will be changing to a million shades of beautiful. We had a hard summer and 2 of our girls Olivia and Hailey had to have C sections and both lost their puppies and had to be fixed. I will not breed a girl again if she has had a c section. It was devastation to both Phil and I and I had thought about stopping breeding, but the joy my babies give people out weighted my sadness.
With fall comes changes in the weather and the question I get asked the most is "how should I dress my Chi for the winter/cold.
Short hair Chi's feel the cold much more than the long hair, but I feel a coat should be worn by both When buying a coat make sure it fits to your pup/dogs body and there are not big gaps where the cold can come in. I like to get heavy sweaters that way they fit snug. In the home your long haired Chi should be fine but the short hair may find it cool. If you have your heart set to go lower in the days when you are at work you may want to put a little t-shirt on them. Not a sweater as they can get over heated. I find in the winter months I move their beds near the vents and they love it. On a very cold day I will put my little electric heater on and they will all lie in front of it and sleep happy and content.
We had hoped we would have found the hobby farm we so want this past summer but we could not find one that meet our needs. We want our furbabies to have a safe home where they can run and play inside and out. We will keep looking and with any luck we will find one by the spring.
If you have been on my Facebook you have seen pictures of the new fur babies that will be joining our family soon. They are coming from the
US, from a wonder breeder friend. We will be starting next spring to begin to breed Merles in our program. I have totally fallen in love with these beautiful Chi's .if interested in having a merle to add to your family let me know and I will add you to our waiting list.
We now have 10 stunning mew puppies from Leeta and Sassy. There are 5 boys and 5 boys. We have a few adopted and are looking for new families. If you are a past owner of one of our Chi puppies/ dogs we will now be offering a return buyers discount. Make sure to ask about it when you contact me.
Over the next few months I will try to address other question I am asked a lot, if you have a question please email it to me and I will try to answer it as best I can or find out information for you.
In closing I would like to say welcome to all the new families who joined the Star's Chi family. Please take some time if you can to write an email and share your experience with others on adopting one of my puppies, it helps people who are looking for a good breeder. Keep your pictures and updates coming, I love receiving them.
Until next time
Val




Chihuahua's maybe small but remember in there minds they are Great Danes and have the heart of a wolf.

March

I would like to say thanks to everyone who has stuck with me the past few months with all the troubles I had with my site. So many of you emailed and called me asking what the problem was and some offering to help to design a new site. Thanks so much for your offers and words of support. It was hard in January and February to sell my puppies with out it but I am pleased to say all our puppies found wonderful forever homes and great families. The site was deleted by the person who help with the site, due to a conflict between us that could not be resolved she deleted it. I spent many hours designing a new site just to have it hacked and deleted by a hateful person. I have been working hard again to get it up and running AGAIN. it is a work in progress and it will take a little time but I will get it done and it will be better than ever. I love the new look do you? Please let us know how you like it or any suggestions to make it better. I think I did well for someone who has no experience in web design. Thanks to Phil and my Grand daughter for helping me.

Now for what is new. We are still looking for s hobby farm and hope to move in the next few months. We will miss our beautiful home but we want a yard that our furbabies can play in safely.

We will be having some new furbabies join our family in a few months , a stunning very rare dilute silver merle with blue eyes and a lavender and blue merle. They were just born this week, they will be coming for the U.S. South Carolina. There is a wonderful breeder there who has agreed to sell her puppies to Star's Chihuahua's. We will post pictures here and on Facebook so you can share in our new puppies. After I post there pictures I would love suggestions for unusual names.

We will be looking for a new home for our sweet Leeta, she has gotten to big to be in our breeding program and feel it would be best for her to get a new forever home. She is a wonderful loving cuddle bug. We would like for her to be in a only pet family. If you feel you can give her the love and life she so deserved please contact me and tell me about yourself and your home. She will be fixed before going to her new forever home.

With the warmer weather here we are finding our dogs shedding there winter coats. If you are finding this as well you can give your dog a good bath and brushing this can help. Brushing them a few times a week can help. You should watch the amount of sun your short hair Chi's are getting as they can get sunburned because there hair is so short. They love to sunbath and can burn if let out in the sun to much. As well with the higher temperatures remember to not over dress your dog/puppy, they can get over heated with is not good for them, dress them lightly in the summer month.

In my next news letter I will talk about flea treatments and training your dog to go out side now that the weather is better. Thanks again for returning to my website I would love to hear from you with feedback on the new site or just to say hello. I am also excepting names for my waiting list for our next litters. If you would like to have first picks on a puppy this is the way to do it. A small deposit will insure your place of a pick of litter. Thanks for stopping by.

See you next month

Valerie



Valerie's News Letter's


Jan

Happy New Years to all my Star's friends and family. All I keep thinking is where did the year go? Do you feel the same why?

We had so much happen over the past 12 months. There were wonderful happy days when families came to pick up there puppies but with the good there always seems to be some bad. As you know we lost our Sweet little boy Simon, I don't think we are over it or will ever be. He was a wonderful loving little boy and he was our furbaby. Gone but never forgotten. We had a few of our girls go to there new forever homes.... Starshine is doing well and has a wonderful loving home. Only weeks ago Zoe went to her new forever home and she is the queen of the house I am told. We have added 2 new girls to our family in the past year and will be putting there pictures up on the site... Olivia is the first... a beautiful little apple head long haired white and black girl. She is very typie and comes from a long line of Champion's. She is a tiny girl and we are hoping we will be able to breed her with the consent of our Vet Dr Booth she is almost a year now. New the newest member to our family is Hannah Rose. She is a very rare peach Merle with stunning blue/green eyes. She is a happy girl who is smart and happy and is a total Mommy's girl, where I go she goes. Look for pictures of both of them on our site. We are so looking forward to seeing the stunning puppies they will give us.

We have many hopes and wishes for this new year. We are hoping to buy a small hobby farm in the area. We want to give out furbabies more room to play and a nice big run they will be safe to come and go to when they want.

We will be letting you know when the time comes. We hope to start a weekend in the summer where we will have a Star's Chihuahua's family reunion day. We would love to have out past puppies and there families come to visit. We will let you know what is happening as the months go by.

There are several people I would like to thank for all there help in 2011.. First my husband Phil who has been my rock. He has been a wonderful help with the puppies, he is great with changing pee pads and cleaning up a mess when most men would say no way. He cleans dirty bums and anything else I ask him to do. He is just as much in love with these wonderful little dogs as I am. Like me he could not see our lives with out Chi's in it. Thanks Phil your the best and I love you...

Next to my family and friends thanks for your help with my furbabies. For helping up out when we want to go away and doggie sitting. Thanks to Colleen who is always there to help and find doggie clothing for them.

In the months to come I will talk about the care and training of your Chi's. If there is something you would like to know more about or you have information you would like to share with others I will be glad to post it.

Lets hope 2012 will be a great year for all of us and that Star's Chihuahua's find the new home we so want. Have a great month and I will write again soon. Thanks for taking the time to read my news letters....
See you next month
Valerie






November



Hello Everyone,

Thanks for stopping by my website, I hope you enjoy the pictures, stories and information and find it helpful. It has been a busy month for Star's Chi's. We had 5 handsome boys of Sophie's go to there new forever homes this month. I am delighted to say they all have found wonderful loving families to love them and spoil them for ever. Sophie was sad to see them go in someways as she looked around the house for a few days. I think she was also happy, when grooming her the other day I seen that she had some bits on her from the pups trying to nurse.
One of the families had a problem with there puppy getting a little hypoglycemic this usually does not happen with my puppies but this little guy had been a little sick from his first shot and was also very tiny. It happens with these little dogs and a few of the signs are sleepy and not wanting to eat or drink. It is an easy problem to fix. Get some corn syrup and get them to lick some off your finger, it usually is not a problem as they love the sweet taste. You should see the pup get a little more alert and responsive in a few minute or so, if not give them some more. and wait to see how they are. If they get over heated from playing out in the yard or walking a lot. Remember they are tiny and there tummies are very small,they don't eat a lot at a time. That is why it is wise to have lots of food and water where to pup can find it. If there is no improvement then contact me or your Vet.
Star's Chi's will be quite for the next month or so, we are waiting for Leeta to have her puppies, the breeding was with Luke and they should have some amazing puppies. If you are interested in going on my waiting list to be contacted when they are born please email me and share a little about yourself and what you are wanting ie male or female, size, colour. When the puppies are born I will work with you to match up the best puppy for you and your family. If all goes as planned they
By being on my waiting list you will get first picks of a puppy. This will be there first litters so it will be fun to see what they have.
I also would like to thank everyone who has sent me emails and pictures of there puppies, we can never have to many so keep the pictures and letters coming in.
We decided to sell our home and move in the up coming months. As most of you know we live in down town Hamilton in our large Victorian home. We love it and so do the dogs but we want to get a small hobby farm so we will have a great big dog run for them all to run and play anytime they want to go outside. We will stay in the general area of Hamilton to Niagara so still close to most of you still. We are hoping to have a Star's Chihuahua's family get together next summer so all our puppies and families can meet. I know it sounds like a great idea. I was thinking of having a dog trainer there to answer questions and some other fun things. As soon as we know we will contact you will a date so you can plan to come.

As always please keep the pictures and emails coming in so we all can share in your wonderful pup/dog. Please leave your comments and and questions and I will be more than happy to answer them. As I always say... no question is a silly one so ask away. If you would like to share a story about your Chi forward it to me and we can post it for others to enjoy.
Fall is around the corner already and before we know it we will be complaining of the cold. If you have anything you would like me to address in up coming news letter please let me know..

Thanks for stopping by and enjoy the site...

Val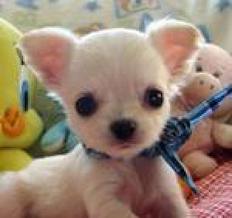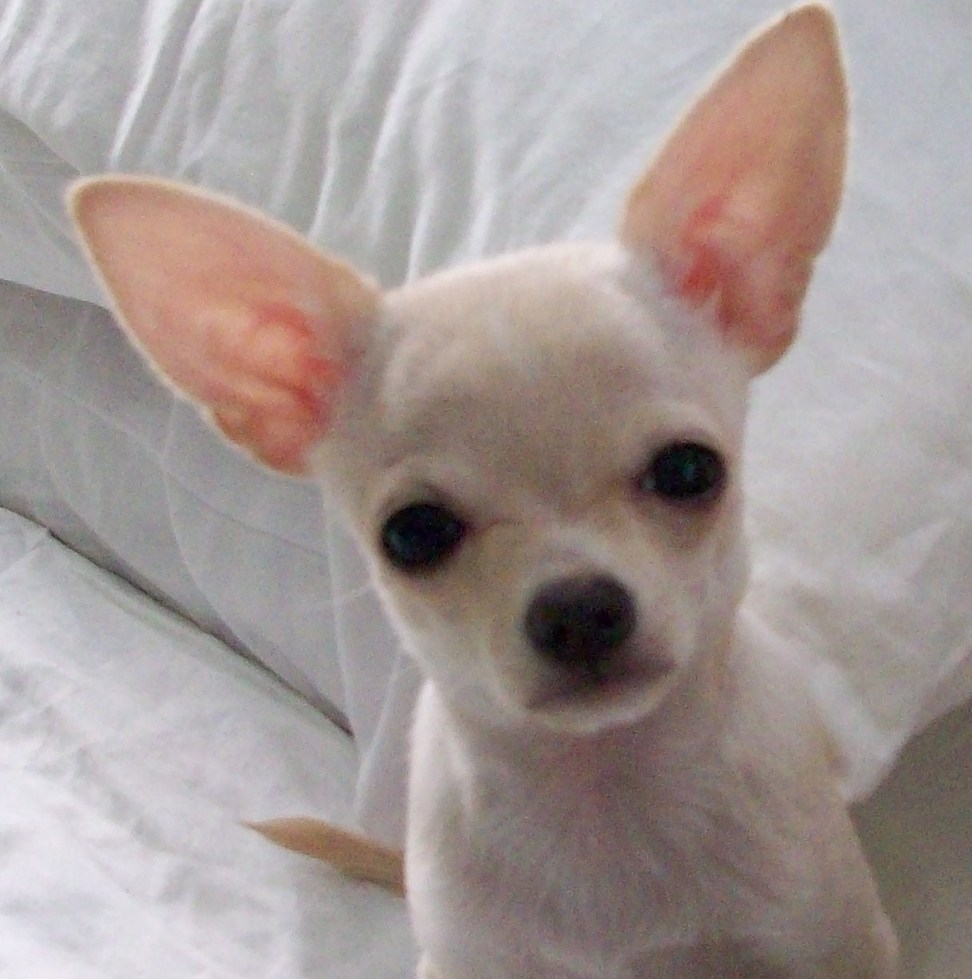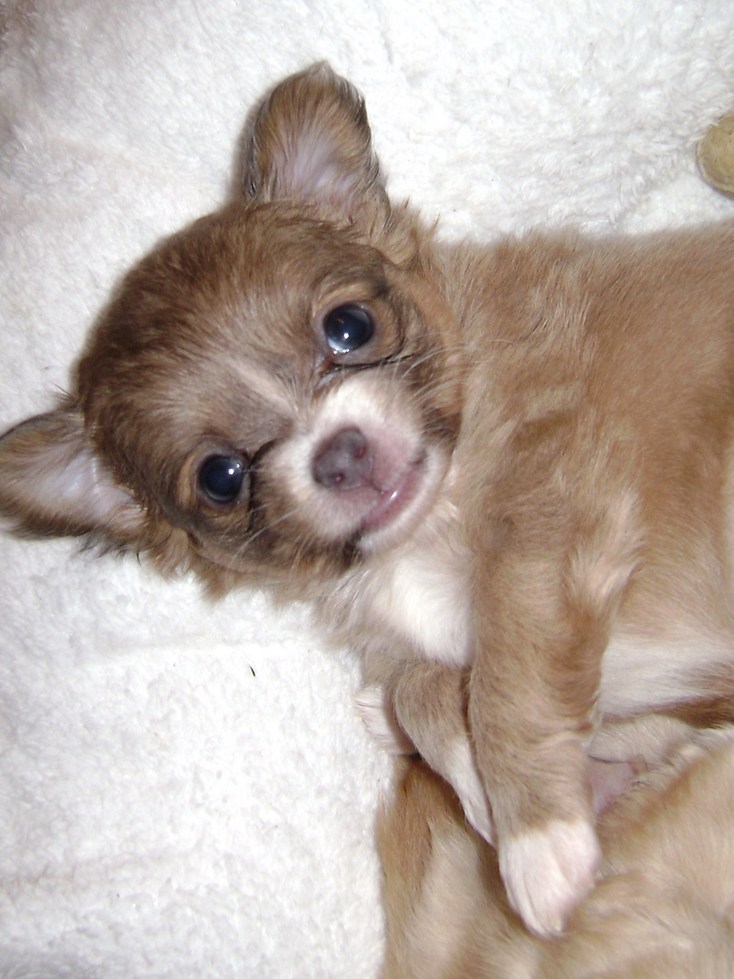 Hello to all my Star's Chihuahua family and friends. First I would like to say I am sorry it has taken me so long to write.
We have been very busy with getting our home ready to sell and should be on the market in the next few week. We have also been busy with the new website, I hope everyone has enjoyed it and I would love any feedback you can give me. It is a work in progress by myself and a learning experience. I guess you are never too old to learn. We have also been busy with some new members of our family, 3 beautiful little girls…. Adele who is a rare lavender merle with pale gray eyes.. Her sister Madison who is a tiny red and white, and last Penelope who is the daughter of Luke from a studding he did. All 3 girls are healthy and happy and we are looking forward to the next few years to see what they will add to our breeding program.
I have had several people contact me about what they should do about keeping their puppies/dogs free from fleas and ticks this summer. Here is how I feel but it is up to you to decide what is best for you and your life style. If your dog is an inside pet I would not worry about treating them as they are unlikely to need it. But if your dog spends lots of time outside walking or playing with other dogs it is wise to have them treated, there are some great products on the market, ask you Vet what is best for you. Remember it only takes one flea to get on your pet and in a few weeks you have a big big problem.
We are happy to say we will be having puppies in Sept. Leta and Sassy have been bred to Lukeso we will have some stunning puppies If you have been wanting one of my puppies them please contact me and tell me a little about yourself and what you are interested in. REMEMBER if you are an owner of one of my dogs now you will get a $100 discount on your next pup. Chi's are amazing little dogs as we all know and do better with a friend to play with and spend time with when you are not home.I have always said they are like potato chips you can't have just one..lol
Watch for pictures of our upcoming litter in Sept., we will post pictures and information on the birth of thr new puppies and who is available for adoption.
If you have any pictures or letters or information you would like to share with others please send them to starschihuahuas@gmail.com and I will be glad to post them..
Have a great month and summer…
Val



This month has been a hard month for Star's Families.​ We all were shocked with the passing of our little man Gizmo. At the young age of 7 months he went in to have surgery for a routine neutering. and due to what we believe to be human error he was given to much medication to put him to sleep and he lost his life. This NEVER should have happened. We have now discovered that the Vet did not give him the meds to put him to sleep but a VEt tec did. and due to there lack of training he lost his life. The Hardy family were and continue to be devastated . They feel they need to make people ask more questions to insure your puppy gets the best care possible. Before having your pet undergo surgery ask these questions...
1, Will the Vet administer all the meds themselves?
2... Wii[[ the Vet be in the room with your dog from start to finish?
3. ​Does your Vet have blood on hand if needed?
4 Does the Vet have experience with tiny dog.s ?​
KNOW the answers to these questions before you sign the consent form to do the surgery..,
​
​​
Jan 2014

First I want to take a few minutes to wish each and everyone of you a wonderful happy New Year!! I hope 2014 will be a great year for all and it is filled with lots of happiness and love and laughter.
This new year will be filled with changes and firsts for us here at Star's.​​​As most of you know for the past year we have been looking for a home in the country for our family. A place where our furbabies could have lots of yard and area to run and play and enjoy the out doors save and out of harms way. Well we found it in Nov. We placed our home on the market and sold and had a short 4 weeks to find a place and to move, which we did. On Dec 5th we moved to our country home and have not looked back. Phil and I have a wonderful home on 2.4 aces of beautiful county land. With corn feels all around us we have discovered something we had not had for many years in the city.. QUITE and skies filled with bright stars. We have not fenced the yard that will be done in the spring. For now the dogs have a beautiful Sunroom they can play in and bask in the the sunshine. In the spring we will have a nice large dog run put in so they can come and go from the house to the yard. There will be lots of grass to play and run on and many mature tree's for the boys to do there peeing on... We plan on putting in a doggie door off the sunroom so they can come and go from the yard safely. We will also mess over the top so no birds of pray can get at them. We want to give our furbabies a safe place to come out side in.
We have also wanted to have a weekend in the summer when we can have an open house a few times a year when the families of our puppies can come for visits and show off there furbabies. The plan is to have a BBQ and have our Vet and others to help with any questions you may have. We so look forward to see our past puppies and see how beautiful they are grown. We will be picking a date and time and will contact you with the details and date. We hope every one in the area can make it..
We also have some wonderful new puppies if you are thinking of adding to your family. They will be ready to go in early March. We are also expecting for the first time some beautiful babies from one of our new boys Clyde in early March. We can't wait to see what he produces. If you are interested in being contacted when they are born let us know to add you. ​
​
Spring 2014
Hello to all our Star family members and followers. At LAST spring has come and not a moment to soon. We had a long hard winter and spend to much time indoors keeping warm with our furbabies. We have lots of news to share.
First we moved to the country, we bought a beautiful home on 2.5 acres of land just outside Simcoe which is about a 60 to 90 min drive from Toronto, Hamilton and Oakville/Burlington. We are easy to find and it is a nice country drive. We have been busy getting the house to our likings. After moving in in Dec we discovered there were more things to do than we thought and had to wait for the better weather to get it done. We are now happy to say we have a nice big fenced area and large covered deck for them to enjoy. There is also a lovely big sunroom for them to lay around and sun and play in. I will take pictures soon so all can see.
We have added some new members to our fur family and I have posted them on our Family page. CC was the first to join, a cute choc and tan long hair girl, she is high energy and can bark at everything but we are working with her to get her to quite. We are looking forward to her having puppies in the fall. Then came Markus... what a stunning little boy, we were so blessed when a breeder friend agreed to let him join our breeding program. He comes from the Royalty of Chihuahua's . He has 9 generations of Ch and Grand Ch behind his lines and his Grandfather Timmy was the top long hair Chi in the USA in 2011. He is what is called a baby face with stunning large eyes and a coat that will be amazing. We can't wait to see his puppies. Next came Gracie Mae, a beautiful white and choc long hair. She is totally a daddies girl and follows Phil every where. We are looking forward to her puppies in 2015. Next and who no one has seen is little Airabella, watch for her pictures in the coming weeks. she is a stunning Choc and white long hair as well. We look forward to the next year and some amazing puppies. At this time we have 5 little girls and 1 boy for adoption so if you are wanting a wonderful little one to add to your forever family let us know.
With the summer coming there are new problems we have to think about tic's and flea's. I think if you pet spends lots of time out in the yard it is wise to put them on a treatment such as Atvantage or frontline and others. You can talk with your Vet or what I have done is buy it on line, it goes by your dogs weight. A small tub of it is placed on your dogs top neck and will last for 30 days. It is also good to keep other biting bugs away. ​Flea's can become a BIG problem if gone untreated.
It is also very important to carry water with you when walking your Chi, they can get dehydrated very fast in the heat, always have fresh cool water available to them. As well food and snacks to keep there energy. Remember if it is warm for you how warm it is with a fur coat on.
We have some beautiful puppies right now.. Clyde fathered 2 litters and they are totally amazing. If your thinking of adding to your family give us a call or drop us an email at starschihuahuas@gmail.com and come to the county and visit us....
Look forward to hear from you and if you have any info you would like to share about Chihuahua's send it to me and I will be happy to add it to the next news letter..
Until next time..
Val Phil and the fur kids.​​​
​​ ​
​

​​​
​
​​​